Return to Headlines
Technology Assistance for SLSD Continuing Education Plan
Dear Southern Lehigh Families:

As we prepare to enter into our continuing education plan, we wanted to make you aware of technology resources and supports that are available to you and your children.
SPARTANDOCS Gmail
The first graphic provides the steps for ensuring your child has access to their SPARANTDOCS Gmail account.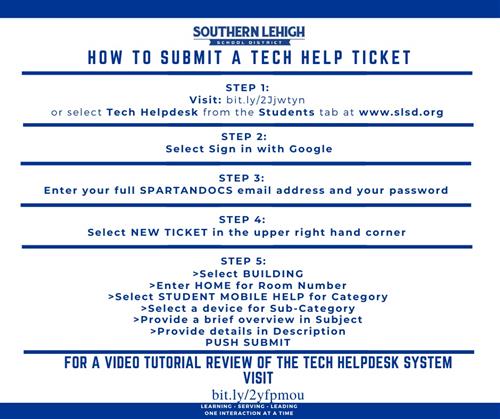 You can click here for the form if you are having issues with logging into the SPARTANDOCS Gmail account. If you already have access, you may click this link for a video tutorial.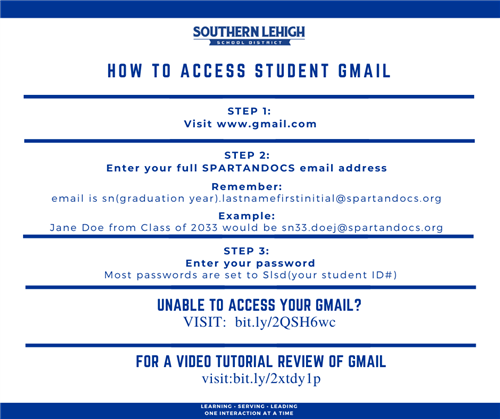 Tech Helpdesk
The second graphic provides the steps to access the Tech Helpdesk system that will allow you to submit tickets for technology issues/challenges using your SPARTANDOCS Gmail account.
You can click here for a video tutorial. Click here to go directly to the Tech Helpdesk system.
Missed the Technology Pick-up and still need a device?
If you missed the technology pick-up that was held at Liberty Bell, Hopewell, and JPLIS this past week and need a device, email devicepickup@slsd.org. PLEASE do not use this email address for technology issues; use the Tech Helpdesk as described above.
COVID-19 Plan Resources
On the Southern Lehigh School District website (www.slsd.org), you will find a tab labeled COVID-19 Plan Resources. Under this tab you will find pages with links to the Tech Helpdesk, video tutorials, links to commonly used web learning resources, and guidance for log-in.
March 30 Student/Family Orientation
Under the COVID-19 Plan Resources tab, you will find a link to Student/Family Orientation March 30 from the Student Resources page. Here you will find information for:
Gmail information, tutorials, and support
Learning Management System (LMS) tutorials and information (Seesaw K-3; Google Classroom 4-12)
Video conferencing information for ZOOM (K-6) and Google Hangout Meet (7-12)
Password information for K-6 most used websites
Please explore the rest of the Student Resource page and the Family Resource page to find general information concerning the continuing education plan, links to technology support, and other resources.
Thank you for your continued patience and support.