Return to Headlines
COVID-19 Community Update April 27, 2020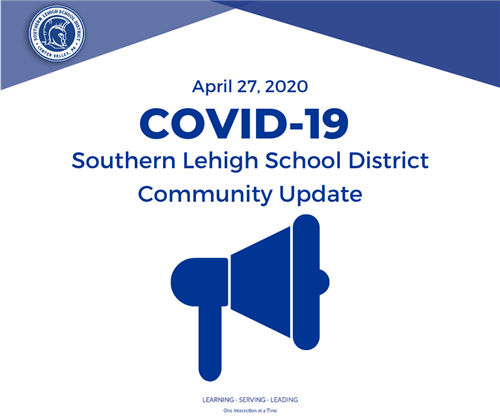 April 27, 2020
Dear Southern Lehigh Families:
We hope this message finds you well and provisioned to navigate the continual challenges that the COVID-19 pandemic has created for all of us.
As a district, we continue to be amazed by the care and generosity of our community. In addition to the over 1400 bagged lunches the district distributes weekly as part of its Grab 'n Go Meal Program, the Southern Lehigh High School Food Pantry is currently supporting 40 families who have students in grades K-12. On a daily basis, we receive monetary and food donations from individuals, groups and businesses to support this program, which began small as an idea among our Spartans at the high school. We are so very appreciative of the outpouring of support that extends to our families and students. In the near future, be on the lookout for a communication concerning Southern Lehigh Spartan PROUD t-shirts that will go on sale to support this endeavor over the summer months.
In addition to the support for families, our staff continues to work to provide meaningful learning opportunities for all students through our Continuity of Education Plan. The plan was reviewed by the Carbon Lehigh Intermediate Unit 21 and submitted to the Pennsylvania Department of Education. A copy of the plan may be found by clicking this link. The document outlines the direction and steps the district has and continues to take in order to support students and their learning. Given the extended closure to the end of the year, it also contains information as to how teams of teachers will gauge individual student and class progress to determine approaches to new learning. Nothing will ever replace the face-to-face interactions between students and teachers, but the district's investment in professional development, technology and its staff over the past several years has provisioned us well to navigate the physical closure of schools.
We continue to update information about services available to families during these trying days. Please remember the COVID-19 Plan Resources banner on the SLSD home page and check there from time to time. Our Health Services department continues to be mindful of situations families encounter and on these pages you will find helpful resources for challenges we might encounter (click here). Our Technology Department continues to be available via the help desk ticket system (click here).
Building level teams continue to develop plans for addressing end-of-year activities and functions that occur every year. Those plans include how to navigate celebrations, transition plans, and pick-up/drop-off of materials/technology. As we learn more about social distancing and the status of stay at home orders from the state, we will share out those plans to families. For now, please know that we are thinking about those plans and how to execute them safely for students and families.
As always, thank you for your continuing support and partnership in keeping us #SLSDProud. Please do not hesitate to visit our frequently asked questions (FAQs) or to email general concerns/questions to info@slsd.org.
Sincerely,
Kathleen T. Evison
Superintendent of Schools