Homework Policy
Homework Policy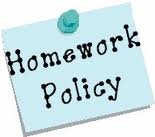 Purpose: Independent practice
15 – 20 minutes per subject (may vary from student to student)
Timers may be helpful for time management issues
Students are encouraged to have a homework routine
A comfortable workspace
A quiet area
A regular time/plan for completing homework (I realize this is not always possible with extra-curricular activities)
Trying it on your own before asking for help
Re-read directions
Ask yourself "what am I being asked to do?"
Look back at previous assignments (this may help you or help you remember what to do.
Last step: Go to an adult and ask for help with clarifying.
AVOID a "Meltdown" at all costs. It is not worth it!
If your child hits the "MELTDOWN" point close the books and folders. Send me a brief note and have your child come and let me know they need help first thing in the morning. I am always happy to help them!
The student will receive a homework slip that must be signed by the student and their parent and returned with the missed assignment the next day. If it is not returned the student will complete the homework during recess.
Homework assignments are posted on the homework board and classroom webpage daily.
We make time at the end of each period to copy all of the assignments down.
Math homework sheets can be accessed online from our classroom webpage.