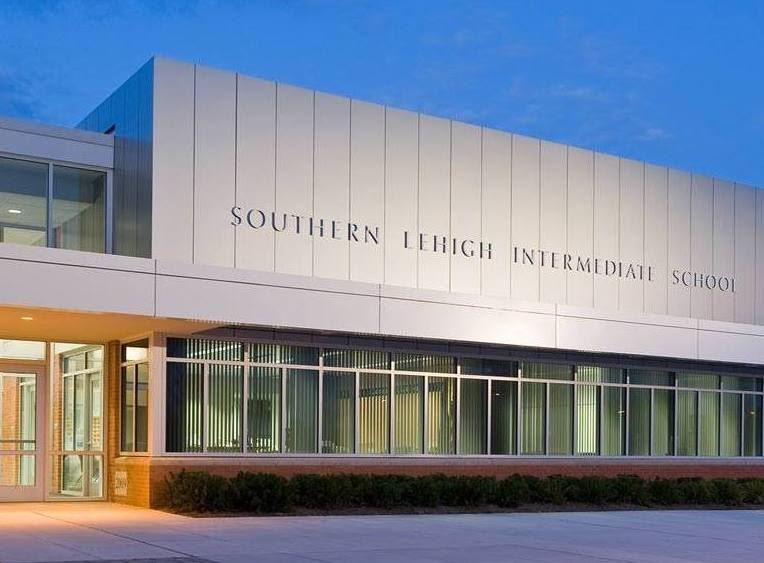 Joseph P. Liberati Intermediate School Overview

Joseph P. Liberati Intermediate School is a community of approximately 750 learners and 100 staff. The building was built in 2009 and opened to grades 4, 5 and 6 for the first time in 2009-2010. When founded, the school's name was Southern Lehigh Intermediate School, but after the passing of a beloved former superintendent, Joseph P. Liberati, the school was recommissioned as his namesake. Mr. Liberati is widely remembered in the Southern Lehigh community as a superintendent who cared very much for students. One of his favorite sayings was "It's all about the kids."

While standing on the same campus as Southern Lehigh High School and Southern Lehigh Middle School, Joseph P. Liberati Intermediate School's address is actually a Bethlehem post office box, 5438 Route 378, Bethlehem, PA 18015. Still, we are the home school for all of Southern Lehigh's fourth, fifth and sixth grade students living in the territories of Coopersburg, Upper Saucon and Lower Milford Townships.

Curriculum/Program Offerings Grades 4-6:

JPL Intermediate School serves as an upper elementary school. The standard course of studies aligns with the State requirements for meeting PA Academic Standards and includes instruction in English/Language Arts, Mathematics, Social Studies and Science. The complementing related arts courses include Health and Physical Education, art music, library science and STEM (Science Technology Engineering and Mathematics). In addition, Southern Lehigh School District offers a Spanish Immersion program that begins with total language immersion in grade 1 and finishes in the intermediate school ending in grade 5. Small group instrumental music lessons as well as band, orchestra and chorus groups are featured parts of the intermediate school's ancillary music offerings. Like Southern Lehigh's other schools, Joseph P. Liberati Intermediate School is well equipped and positioned to teach students how to use and engage the world through the use of technology. All students and staff are provided with 1:1 computing devices.

Schedule:

The Intermediate School day is scheduled so that core instruction is divided into three ninety minute blocks of time (90 minutes Language Arts/reading, 90 minutes of Mathematics, and 90 minutes for Social Studies/Science). Social Studies and Science are scheduled as a single block to allow instructional flexibility. On each of the five days of the cycle, students also experience one complimentary related arts course accounting for 45 minutes of their day. A 30 minute Spartan Period (Enrichment and Focus) also occurs daily for all grade levels. This period permits dedicated time for curricular extensions, remediation and enrichment, and instrumental music lessons. Further, this period also provides opportunity for students to conduct age appropriate careers exploration with the support of our Guidance Counselor, and practice skills aimed at building citizenship, social skills, and responding to bullying.

Weekly Cycle:

The Intermediate School operates on a 5-day cycle schedule. The days are identified as Days A-E. The first day of school is day A. Days continue to cycle consecutively throughout the school year. Interruptions in our calendar due to holidays, in-service days, and weather cause the cycle to adjust so that no letter days are missed.

We are a State Recognized School-Wide Positive Behavior School

School-Wide Positive Behavior intervention and supports is an evidence-based, systems approach for establishing the social culture needed for schools to be effective learning environments for all students. Through our program, We R Spartans, we strive to teach students expected behaviors and social skills and recognize these demonstrated behaviors and skills with positive reinforcement. The PBIS-SWPBS model is a three-tiered approach including Universal interventions (for all students and across all settings), Secondary interventions (for students who are at-risk), and Tertiary interventions (for individual students needing specialized assistance). Our universal interventions include the use of Sparkens tokens and postcards as recognition for demonstrating positive behaviors. Our secondary interventions include teacher-student "Check-In, Check- Out" meetings, social skills groups, and an after-school homework club. Our tertiary interventions incorporate the use of more individualized plans and community resources. In 2017, JPLIS was recognized by the state for having a model program showing Fidelity of Implementation at the Universal or Tier 1 Level. Since 2018, JPLIS has been recognized for Fidelity of Implementation for both Universal or Tier 1 Level and the Tertiary or Tier 2 Level Implementation.